Opportunity Knocks Contractor Program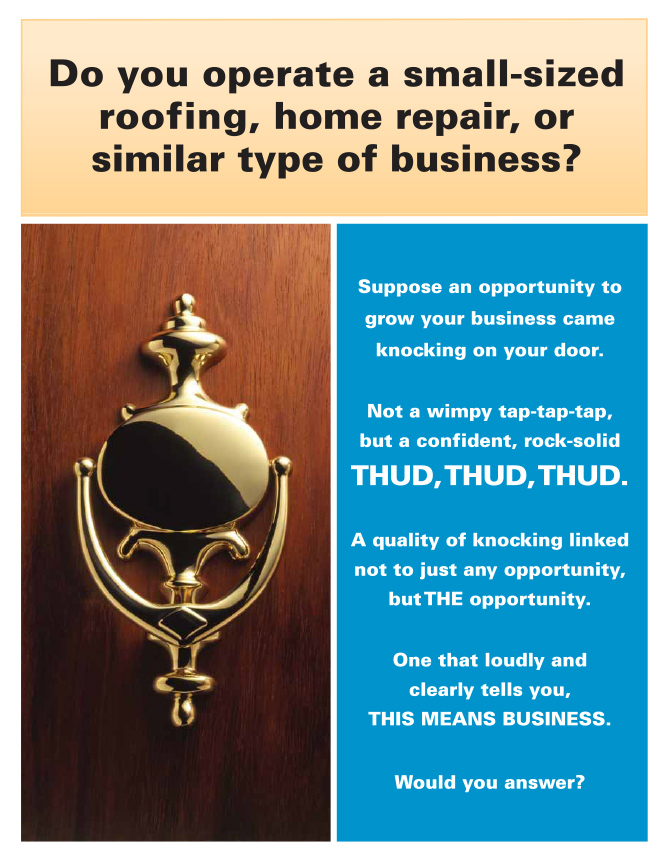 Do you operate a small-sized roofing, home repair, or similar type of business? If so, then the RoofKit Opportunity Knocks program may be a great way to expand your service offering and increase your revenue!
Opportunity Knocks is the only program of its kind to offer you a true opportunity to easily and effectively grow your business…without the risks, hassles and fine-print surprises associated with many other opportunities.
This program opens the door for you to add a new service offering to your business: Installing RoofKit roofing on a variety of flat-roof structures such as garages, sunrooms, carports, room additions, breezeways, mobile homes and, especially, small commercial buildings. Absolutely no previous roofing experience is required. No special tools are needed. And you won't have to pay anything—not one single cent—for the training, knowledge and support that can help make you the most respected, most called on, most profitable flat-roof roofing specialist in your area!
All you really need are healthy doses of desire and motivation combined with a solid work ethic and reputation in order to take advantage of the Opportunity Knocks program.
We're looking for those special people who run successful, well-respected small-sized operations and have the big-time drive to achieve more. The true go-getters who want more business. More growth. More profits. And who insist on getting there the right way: by always sticking to their word, delivering quality work, and being as fair as possible.
If you're the type of person we're describing, you're that much closer to benefiting from the Opportunity Knocks program. Once you've chosen to take advantage of this program, we'll put our money where our mouth is by supplying the expert knowledge, training and support you need to begin installing RoofKit roofing on small-sized flat-roof projects in your area.
The process is simple to learn; in almost no time at all you'll have the confidence and know-how to be up and running like a seasoned professional! And to help keep you at the top of your game, ongoing technical service, customer support and how-to demonstrations are available.
For more information on Opportunity Knocks, call 1-800-225-4714, ext. 7888 or click here.