RoofKit White Reinforced Membrane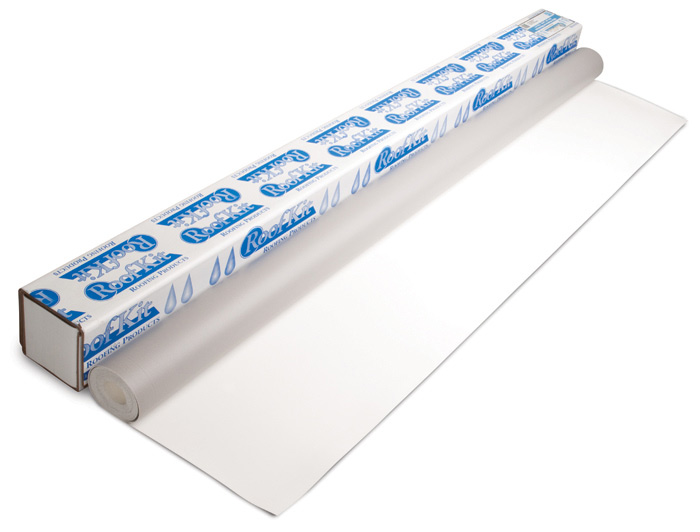 RoofKit White Reinforced Membrane is an energy-saving option for homeowners and contractors who need to repair or replace flat or low slope roofs. It is designed to withstand tough environmental challenges – UV, oil, chemicals, ponded water and more. Unlike other white roofing products, RoofKit White Reinforced membrane does NOT require dangerous heat welding for installation and does not chalk, fade or turn yellow over time.
Backed by a 20-year limited warranty, our White Reinforced Membrane provides outstanding, energy efficient performance and long-term cost savings.
Key Features:
45 mil White Reinforced Membrane

85% reflectivity rating

Easy to install

Complete line of installation accessories

Limited 20-year warranty

Outstanding service and technical support
Ideal For:
Carports, Room Additions, Storage Buildings, Porch Roofs, Sunrooms, Businesses, Breezeways, Garages, Mobile Homes & RVs
Sizes:
6'6″ x 20 ft rolls (1 or 2 per tube)
10 ft x 20 ft rolls
10 ft x 100 ft rolls
Important Notice About Water Vapor or Condensation:
Control of water vapor and subsequent condensation is the responsibility of the person designing the roofing assembly. Exposure of the roof to temperatures below the dew point temperature of the air inside the building will cause condensation to form within the roofing assembly. Condensation forming within the roofing assembly and dripping into the building is not a roof leak. The person designing the roofing assembly and the person installing the roofing assembly must use proper water vapor control measures when designing and installing the roofing assembly to prevent condensation from forming within the roofing assembly.