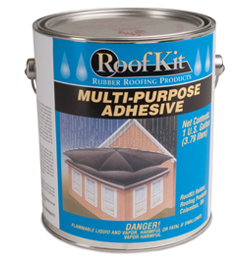 Multi-Purpose Adhesive
Uses:
Used for any application on the roof: Adhering the membrane to the
substrate, walls, or membrane-to-membrane seaming
Features:
One product for two applications!

Used as both bonding adhesive or seam adhesive
Also known as Black Glue in the roofing industry
Up to 60 sq. ft. per gallon coverage
This product must be applied in a thin coat using a small nap paint roller or brush
Sizes:
| PRODUCT SIZE | U/M WEIGHT | SKID QUANTITY | UNIT OF MEASURE | PACKAGING |
| --- | --- | --- | --- | --- |
| 1 GALLON | 32 LBS | 24 | 1 GALLON CAN | 4/1 GALLON CANS PER CASE |
Caution:
Read Caution Labels on all adhesives, primer, and sealant containers. These materials contain petroleum distillates and are extremely flammable. Care MUST be taken to avoid open flames.
Do not smoke when using these products. Safety Data Sheets (SDS) are available for these products and should be consulted. Turn off all air intake systems on the roof before use. READ ALL CAUTIONS AND WARNINGS IN THE PRODUCT APPLICATION GUIDE PAGES 2-3.
In the event that this product is not available in your area, please call technical support at 1-800-225-4714, Ext. 7888 for additional information on alternative products and installation procedures.