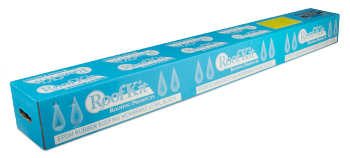 EPDM Rubber Roofing Membrane
Uses:
Used to cover flat roof surfaces including Garages, Sunrooms, Carports, Room Additions, Breezeways, Mobile Homes, Small Commercial Building, etc.
Features:
Easy to install on most roofs

Black, heat absorbing finish for helping winter heating bills

Environmentally friendly long lasting membrane highly resistant to mold, mildew, and ozone and UV degradation

Remains flexible in all weather conditions and commercially tough for your small or large jobs

Most popular commercial roofing membrane of all time

Two thicknesses available in large sizes
Sizes:
PRODUCT SIZE*

U/M WEIGHT

SKID QUANTITY

UNIT OF MEASURE

PACKAGING

45 Mil Thickness
10 x 20, 15 x 25, 7 x 50, 7 x 100, 10 x 50,
10 x 100, 15 x 100, 20 x 50, 20 x 100,
30 x 50, 30 x 100

.31 lbs/sq ft

10x20 & 15x25:
10/SKID.
ALL OTHERS INDIVIDUAL

EACH

WRAPPED ROLL

60 Mil Thickness
7 x 50, 7 x 100, 10 x 50, 10 x 100, 20 x 50,
20 x 100

.40 lbs/sq ft

ALL SIZES SOLD
INDIVIDUALLY

EACH

WRAPPED ROLL
* Certain sizes available only on special order basis.
Caution:
Slippery when wet - See additional cautions and warnings on page 2 & 3 of the Rubber Roofing Pocket Application Guide. Oil and grease can cause major damage to membrane. Animal fats can cause major damage to the membrane. All tree branches or limbs should be kept trimmed and at least 6' away from the membrane.
Standard roof cements will cause major damage to the membrane. Use only approved RoofKit brand adhesives and repair products.

Questions? Contact our Technical Service department at 1-800-225-4714, ext. 7889