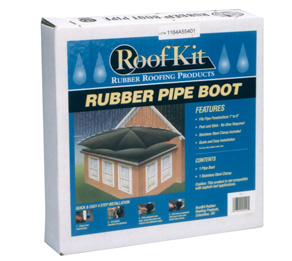 Rubber Pipe Boot
Uses:
Used for sealing pipes, stacks or vents up to 6" in diameter
Features:
Black rubber flashing boot that is also peel and stick for easy application
Also known as Witches Hat, it is notched for application on pipes from 1" to 6"
One per box with clamp included


Sizes:
PRODUCT SIZE

U/M WEIGHT

SKID QUANTITY

UNIT OF MEASURE

PACKAGING

1" - 6"

1 LBS

63

EACH

1 BOOT/1 CLAMP
PER BOX
Caution:
RoofKit Seam Primer REQUIRES the use of solvent-resistant gloves when using this product. Store in dry location away from heat and sunlight. READ ALL CAUTIONS AND WARNINGS IN THE PRODUCT APPLICATION GUIDE PAGES 2-3.