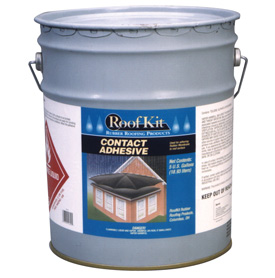 Contact Adhesive
Uses:
Used to adhere EPDM membrane to a suitable substrate (i.e.) Plywood, High-Density fiberboard, OSB board, ISO insulation board
Features:
Quick drying solvent-based bonding adhesive (usually 30-60 minutes depending on temperature and humidity

)
Must be applied to both membrane and substrate
Under most circumstances EPDM membrane can be walked on immediately
High heat tolerance
Known as Yellow Glue in the roofing industry
Sizes:
| PRODUCT SIZE | U/M WEIGHT | SKID QUANTITY | UNIT OF MEASURE | PACKAGING |
| --- | --- | --- | --- | --- |
| 5 GALLON | 40 LBS | 36 | EACH | 5 GALLON PAILS |
Caution:
Before joining membrane to substrate, adhesive must dry to touch. Read Caution Labels on all adhesives, primer, and sealant containers. These materials contain petroleum distillates and are extremely flammable. Care MUST be taken to avoid open flames. Do not smoke when using these products. Safety Data Sheets (SDS) are available for these products and should be consulted. Turn off all air intake systems on the roof before use.
READ ALL CAUTIONS AND WARNINGS IN THE PRODUCT APPLICATION GUIDE PAGES 2-3.