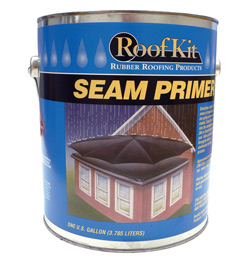 Seam Primer
Uses:
Used for cleaning and priming all roof membrane surfaces prior to installation of RoofKit products including Tapes, Multi-Purpose Adhesive, Caulk, Corner Covers and Pipe Boot
Features:
One step product for cleaning and priming roof membrane

Required for use with all Tape products
Fast drying for quick installation of adhesives or tapes
Promotes uniform adhesion of Tape Products
Sizes:
PRODUCT SIZE

U/M WEIGHT

SKID QUANTITY

UNIT OF MEASURE

PACKAGING

1 GALLON CANS

32LBS

24

CASE

4/1 GALLON CANS PER CASE

1-PT CAN INCLUDED IN
SEAM KIT AND PATCH KIT

N/A

N/A

N/A

INDIVIDUAL PT. CANS IN SEAM
KIT AND PATCH KIT
Caution:
RoofKit Seam Primer REQUIRES the use of solvent-resistant gloves when using this product. These materials contain petroleum distillates and are extremely flammable. Care MUST be taken to avoid open flames. Do not smoke when using these products.
Properly dispose of used rags and scrubbie pads once they have dried out. Store in dry location away from heat and sunlight.
READ ALL CAUTIONS AND WARNINGS IN THE PRODUCT APPLICATION GUIDE PAGES 2-3.