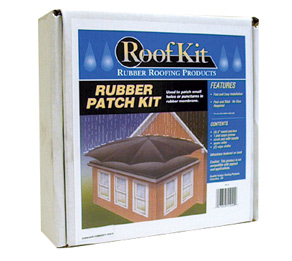 Rubber Patch Kit
Uses:
Uses include patching all EPDM membrane surfaces including cuts, holes, etc.
Features:
Rubber Patch Kit includes four EPDM 8" patches, scrubbie pad, wood roller, 1 pt of Seam Primer and wiping cloths
Easy to use peel and stick repair patches


Sizes:
| PRODUCT SIZE | U/M WEIGHT | SKID QUANTITY | UNIT OF MEASURE | PACKAGING |
| --- | --- | --- | --- | --- |
| N/A | 2 LBS | 112 | EACH | EACH KIT CONTAINS FOUR 8" EPDM PATCHES, 1-PT SEAM PRIMER, 1 WOOD ROLLER, 1 SCRUBBIE PAD W/ HOLDER |
Caution:
These materials contain petroleum distillates and are extremely flammable. Care MUST be taken to avoid open flames. Do not smoke when using these products. Safety Data Sheets (SDS) are available for these products and should be consulted. Store in dry location away from heat and sunlight. Let all rags, brushes and scrubbie pads dry before disposal. RoofKit Seam Primer REQUIRES the use of solvent-resistant gloves when using this product. READ ALL CAUTIONS AND WARNINGS IN THE PRODUCT APPLICATION GUIDE PAGES 2-3.